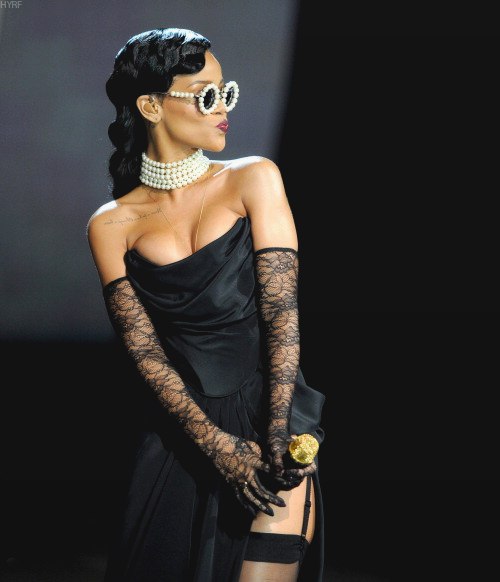 Rihanna - Diamonds Live Victoria's Secret Fashion Show. She's no Angel! Rihanna raunches it up in slit to the thigh corset dress then grabs at an model's underwear at Victoria's Secret Fashion Show. This is " Rihanna ~ Diamonds (Victoria's Secret Fashion Show )" by transferatlas on Vimeo, the home.
Holding her own: Rihanna - here with Doutzen Kroes - could clearly have been an Angel, had her international pop career not panned out. Diamonds: Rihanna belted out a song while wearing pearl rimmed sunglasses and a matching choker. Giggles: The pair convulsed with laughter after the incident as the model took the gesture in good humour. Think pink: Rihanna appeared to be having a great time and told fans she was a VS girl.
Some horseplay ensued that earned whoops from the crowd, and caused a few people to need fanning down on a cold Manhattan evening.. Rihanna made sure she kept her fans up to date on all the goings on at the show and tweeted a series of backstage snaps to her account.. Always flirting: Rihanna seemed to enjoy interacting with the models, particularly Doutzen in this cage ensemble.
Yin and yang: Rihanna showed off her naughty and nice sides via some nice costume choices. Pretty in pink: The singer also slipped into this lace baby pink number that showed off her legs. Runway success: Rihanna strode the catwalk like a pro putting her best fashion foot forward. Another couple of shots show the Angels in their bright pink dressing satin dressing gowns ahead of the fashion show.. Justin Bieber and Bruno Mars also appeared at the show alongside A list Angels Miranda Kerr, Alessandra Ambrosio and Adriana Lima..
Giving them a run for their money: The singer oozed confidence as she tried to compete for the best bottom in the show. Enthralling: Doutzen got up close and personal with the pop superstar for the performance.
Hold my hand: The showstopper was in her element interacting with the Dutch beauty. Rihanna recently revealed the tracklisting for her November 19 album, Unapologetic, and the first track is aptly enough for Wednesday night Fresh Out the Runway..
Uber-talented: Rihanna rocked the annual festival of flesh. Rihanna joined the Angels at the end of the runway at the end of the show.
What a great brunch: The girls proved quite the sight all stood together. Tale of Two Cities: While Rihanna worked at the event in New York, Brown was attending a in-store meet and greet in Los Angeles. Party pooped: Rihanna tweeted this picture after the show.
Backstage gossip: The singer kept fans up-to-date on her movements before, after and during the show. Share or comment on this article.